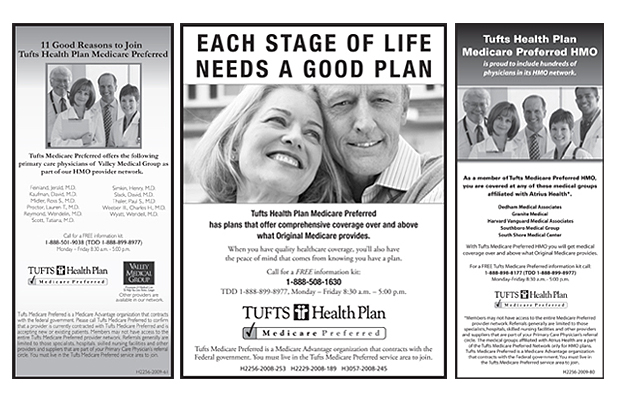 Our Tufts Health Plan Story
DS Design Studio collaborated with the Tufts Marketing department and took on the role of project manager to ensure all time-sensitive newspaper insertions were efficiently designed, branded, resized, pre-pressed, coordinated and uploaded on a daily basis. The tight deadlines were day and time specific and we had to utilize each publications own upload service or specific FTP addresses. Some of the online transfer systems worked well but some were antiquated which required attention to detail and additional follow-through to ensure Tufts deadlines were met (every deadline was maintained and with ZERO MISTAKES). In addition, we assisted with direct mail and collateral for the Tufts sales team.
A handfull of the newspaper inserts we had to manage included: Allston Brighton Tab, The Enterprise, Norwood Bulletin, Dorchester Reporter, Sentinel & Enterprise, Daily Hampshire Gazette, Lowell Sun, Patriot Ledger, Springfield Republican, Medford Transcript, Beverly Citizen, Eagle Tribune, Daily News Tribune, Cape Cod Times, Beacon Villager, Boston Globe, Metrowest Daily News, Haverill Gazette and more (and that's only a partial list).